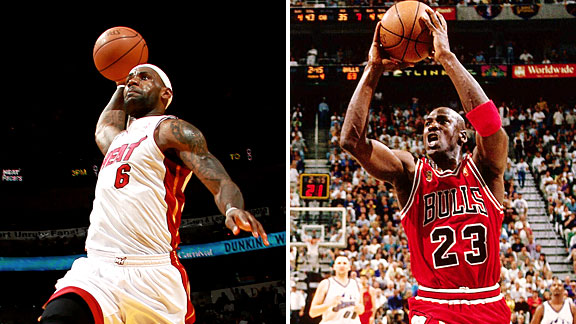 Does anyone remember back in May when Scottie Pippen made this statement?: "Michael Jordan is probably the greatest scorer to ever play the game. I may go so far as saying LeBron James may be the greatest player to ever play the game." I'm sure you do, it created quite the buzz. And now that James is on a scoring frenzy and rewriting the record books, the ever-popular debate is back in full force. It is all over SportsCenter, Pardon the Interruption, First Take, etc. So I thought I would bring it here.
Now, I am by no means a basketball genius, and I certainly was not alive to see Michael play. But, I have seen Lebron and I have watched countless MJ highlights (that makes me credible, right?). Both players are immensely talented. I believe that both have a great work ethic. Both are fantastic on both ends of the court. Both can score from anywhere on the floor. And both can seemingly "fly".
LeBron James is essentially a freight train that pummels his way through opposing defenses. He is very talented on the defensive end (4-time All Defensive 1st Team). He loves to get his teammates involved (6.9 assits per game career average). He is also a very good scorer with the ability to hit the outside shot or get to the hole and finish at the rim. One thing that always impresses me about LeBron is his ability to play and guard any position on the floor. Obviously, some of that has to do with his God given size, but not all of it. ESPN's Israel Gutierrez stated recently said "the way I see it, it took last year's playoffs for LeBron to realize just how dominant he can be. Now he realizes that, yes, he can be in Jordan's neighborhood by the time he retires, so he's setting goals and making it happen."
Michael Jordan was a prototypical scorer. He could shake a defender and get to the paint with ease and finish with a dunk or one of his signature "circus shots." He could shoot the three, as well as pull up and hit a mid-range jumper. He was also very good at the fade away jumper, which he developed over the course of his career. Since I gave you a few stats for LeBron I will give you some for Jordan as well. He was a 9-time All-Defensive first team selection, 5-time league MVP, and finished his career averaging 30 points and 5 assists a game. Of course, Michael is also known for his "clutchness" and ability to take over a game at any moment.
With that said, I do not believe that a fair comparison can be made just yet. Jordan's career is finished and LeBron's career is not. Through the first 9 years of LeBron's career his numbers are very much worthy of this discussion. But, the difference is MJ had already won three rings, while LeBron has only won one.
But for this argument's sake I will side with "His Airness." He was an exciting player with a will to win that was second to none. He also finished his career with six rings and six Finals MVP's. With that said, it can be expected that LeBron will play at least 10 more years, barring injury. So, who is to say that by that time LeBron won't have more rings than Michael? I guess we will have to wait to find out.
So this is my question(s) for you: Who do you believe to be the better player? And why? If MJ, do you think LeBron can or will pass him? I really appreciate your comments and would love to hear your opinion on the subject.